St. Patrick's Day Celebration
Lads & lassies...looking for the best places to celebrate St. Patrick's Day? McCawley's is no doubt the best place where you can raise a pint and celebrate with your friends!!
Don't forget to wear something green and irish! or you can get a McCawley's St. Patrick's Day souvenir T-Shirt at any of McCawley's outlets for 250rmb, PLUS 5 pints/bottles for choice of Guinness, Kilkenny and Maganers Cider ! Check it out at all McCawley's outlets. Let's drink and party!! Everyone is welcomed!
加入我们一起庆祝圣帕特里克节这个一年之中最绿的日子(哈哈)...还没找到合适的服装?没问题,节日当天在麦考利只需250rmb即可得到5杯/瓶健力士黑啤/骑健尼/麦格斯苹果酒麦考利圣帕特里克节的纪念品。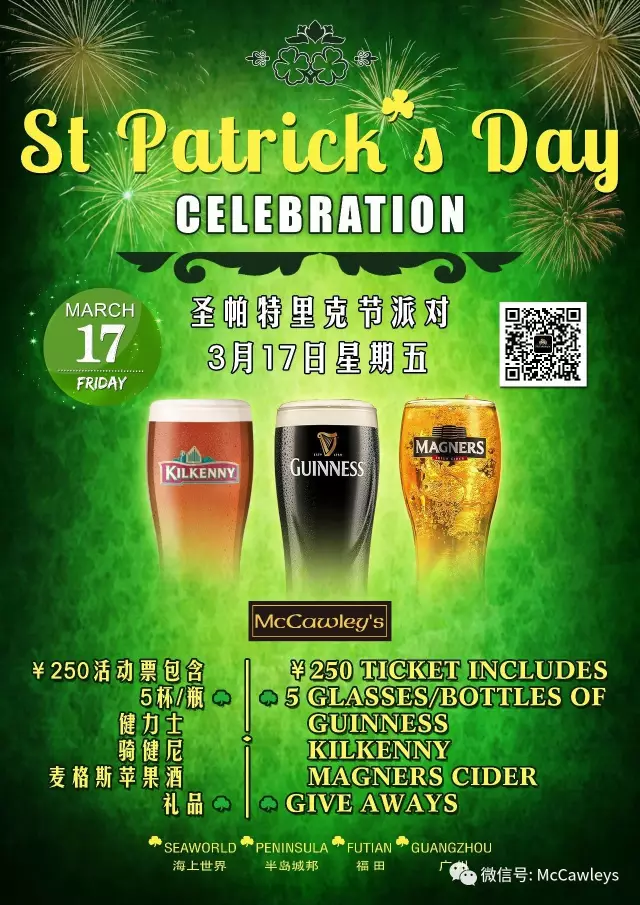 Date | 日期
17th March, 2017
2017年3月17日
Time | 时间
All day long
全日
Ticket | 活动票
RMB 250
includes/包含:
- 5 x Guinness/Kilkenny/Magners
- Give Aways  礼品
Venue | 活动地点
• McCawley's Tianhe 麦考利天河店 
  Shop No.101 16 HuaCheng Av, Zhujiang New Town, TianHe, Guangzhou
  广州珠江新城花城大1道16号101商铺 
  020 3801 7000
• McCawley's Seaworld 麦考利蛇口店 
  Shop No.118 Seaworld Shekou, Shenzhen
   蛇口海上世界118号商铺
   0755 2668 4496
• McCawley's Futian 麦考利福田店
   Shop No.151-152, Gou Wu Gong Yuan, CBD, Futian Shenzhen
   深圳福田购物公园151-152号
   0755 2531 3599
• McCawley's Peninsula 麦考利半岛城邦店
   109 Rose Garden Phrase 3,Nanshan District, Shenzhen
   深圳南山区南海玫瑰花园3期109号
   0755 2531 3599