In light of recent events over the Diaoyu/Senkaku Islands and worsening protests and deliberate vandalism xian-japanese-car-owner-beaten-video-exposed-then-censored all over China of not only the Embassy in Beijing but also incidents attacking Japanese cars (owned by Chinese in China) refusal to fill up Japanese cars at filling stations by Chinese against their Chinese owners (there is a pattern of irony here) Also in Japan - japanese-anti-china-demonstration I feel it shocking about how little most of these people actually know about the whole situation. Prior to 2010 after the first incident with the Japanese and Chinese fishing boats these people on the whole neither knew, nor cared anything about these Islands. That is the first of several key points. 
The territorial dispute over a group of largely uninhabited islands (point two) The so called Senkaku Islands, which are also known as the Diaoyu by China or Tiaoyutai Islands by Taiwan. The archipelago is administered by Japan (3) while also being claimed by both the People's Republic of China (PRC) and the Republic of China (ROC). The United States occupied the islands from 1945 to 1972. (4) Both the PRC and Japan indicated their sovereignty claims with respect to the islands to the United Nations Security Council at the time of the US transfer of its administrative powers to Japan. (5) Sovereignty over the islands would give the owner exclusive oil, mineral and fishing rights in surrounding waters. (6th and most important point) Although the United States does not have an official position on the merits of the competing sovereignty claims, the islands are included within the U.S. Japan Security Treaty meaning that a defense of the islands by Japan may compel support from the United States military. (7)

While I know there is strong feeling about this on both sides, and each have to their mind valid claim I urge both sides most strongly to ask yourselves, who does this dispute best serve? A continued divide between the two strongest economic powers in Asia? - think about it. There is more at stake and going on than many realize. While not taking sides I merely wish to broaden the view.
The UN decision to hand over the islands to Japan was then, and is now not relevant to China, or legal to Chinese. Why? Well, as of 1972 China was still a closed state until post Mao 1978 onward. So in the eyes of China she still held sway over the once Qing Dynasty ruled islands (until circa 1895).
While this is way pre any United Nations agreements and pre the private ownership allowing them to buy them which is how Japan sees it, China most definitely does not, as they were/are not recognized as law in China. Outside China, yes. Inside - NO! This MUST be understood clearly. International law circa 1972 is not legal in China. While the UN see this as an international legal issue, to China it is a matter of sovereignty. 
It is quite a mess, and yet if we look just two years ago we see a very different story in part for relations - economist.Japans Love Bubbles for China
If you want to see what all the fuss is about-here you go.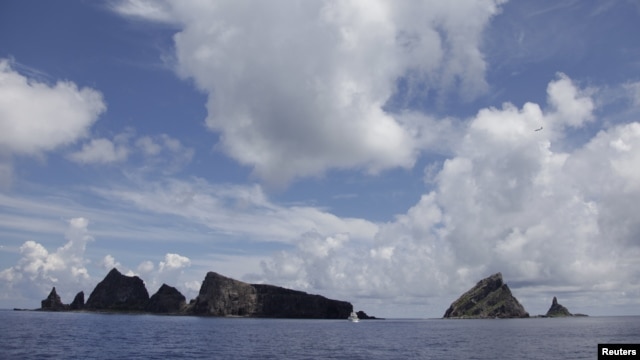 Yep, you guess it, a pile of rocks east of China, south west of Japan, and north east of Taiwan, each with their own names for them. See Senkaku_Islands_dispute and you can appreciate the situation far better if you are aware of the facts. These Islands have a long history of dispute.
Were this 'olden times' the two most popular words in any global development would apply.
"War & Plunder - The two most reliable sources of income"
The fundamentals of this ideal has not changed since the dawn of man. These days we merely package them differently.
Again, you must know something of 'the great game' of politicking. Should China and Japan resort to hostility, under the security agreement (and with UN sanction) the US can 'step in' under a ruse of maintaining/restoring peace in the region. Not only will this give them claim on the gas/mineral/oil options if Japan keep the islands, the UN could Vito China, place more embargo, (Mr Wen in Brussels still asking for the arms embargo of 1989 to be lifted bbc/world-asia) isolate, and even dissolve the debt. 
For those who scoff or mock, it is also wise to understand that Europe/Brussels had hopes of a $3tn bailout from China (read aforementioned link carefully) following in the US footsteps. The EU's refusal to treat China as a fully-fledged free market economy, but under this Bilateral trade has more than quadrupled under Mr Wen's nine-year premiership. The EU is now China's largest export market and the world's second-largest exporter to China. But China has concerns (rightly so) about the Eurozone. Mr Wen has called on struggling European nations to get their 'finances in order'. Which I can tell you does not go down well with the Germans, but they still signed anyway. (!)
Another player in this game is Syria. The recent turn from Syria to China in oil deals was renounced by both the UN and the US. China has pledged to help end the violence there only antagonized in recent years by the US who say it 'flouts' western sanctions. Again, not supporting or denying the validity of this, but it is another slap to both groups from a NON western country trying to get out from under what they see as unwelcome interference in their countries affairs. This game has many hidden layers and far reaching ramifications.
It all comes down to trade. As old as time itself. I have something you want, you have something I want. China has surpassed America in the trade wars to such an extent that Mitt Romney is now constantly 'attacking' Mr Obama on this issue of him being too soft letting it go so far and has pledged on his first day of office to make it his priority to redress the balance, even accusing China of currency manipulation, stealing ideas (boy, if he only knew the half of it) more here - bbc.co.uk
Both are lobbying Ohio (50,000 car workers) and Mr Obama is lobbying the WTO furiously to stop China 'dumping' their cars, while needing the votes of this key state he must be 'seen' to be doing so. Again, all part of the great game. Pledging this, and assuring the other until of course, after the election. More over his latest bid to throw a spanner in the march of China has not happened in 22 years, but it's an election year so - usatoday/obama-blocks-chinese-wind-farm-purchase
This is only part of the big picture and some of the facts, but important ones. You can do your own research, broaden your own opinion, and decide what you will. But remember, this is not the China of 1972 OR 1989 as so treated by the UN. China' progress while often slow and cumbersome is clear to see. While she still has a long way to go it is a very different place from the China of yesterday. Given proper education and understanding, enlightenment and temperance would follow. Or at least a damn site more than there is now. And amid the current climate this is already happening. Some examples:
Following the outcry of Netizens of the appalling living conditions after the Yunnan earthquake the Red Cross stepped in - red-cross-tents-at-yunnan-earthquake-site. And while not an ideal solution it is better than before, and more than the Sichuan sufferes of 2008 got. 
After appearing on TV at an accident site an official was dismissed from his post again, following outcry from Netizens of photos of him smiling at the scene of an accident. official-smiling-at-tragic-accident-scene.
Unhappy about hygiene - chinese-man-buys-2000-buckets-of-kfc-in-protest
A new deal signed - bbc.co.uk/news/business (!)

Most importantly in my mind there is the wave of the future - the youth of China. bbc.co.uk/news/world-asia All these things would never have happened in yesterdays China. This is where we must focus so much of our attention. They are the future Businessmen, Government Officials, Police Officers, Engineers, Doctors - everything. Let us hope they have the fortitude, resolve and courage to do what is right, fair and just - for all!
"If all you see in China as Chinese is Japan 'bad', you must see with better eyes than that"
I joked with a friend of mine last week about playing 'Two Tribes' (see video) whilst riding around in a shopping trolley (don't have a tank) with a plastic bucket (for a helmet) on my head firing a mop (don't have a rifle either) but wars have started over a lot less, and while I myself am powerless to prevent these things I can try to spread a little more awareness of what it is really all about, and the futility and danger of going too far. Perhaps we will evolve out of this feudal/confrontational nature we have eventually, the sooner the better I say. Or they can just bomb the shit out of each other and squabble for another 70 or 1000 years, the choice is theirs.
Now with all said and done and regardless of what views you have, one thing is clear. Make no mistake that the Chinese, her people and state will never surrender these islands in the way the Japanese/UN/US or anyone else for that matter wants. There will be no 'bully boy' 'world Policing' tolerated here. The sooner everyone realizes this, the sooner they can find (albeit difficultly) a compromise, or other solution that secures peace. To force the Chinese into a corner and leave her no option would be disastrous for all involved. Unless you have lived here and know the sense and strength of feeling (and again the right or wrong of it aside) you can 'assume' nothing. I just hope such men exist outside these borders to convey that to those who need to know. China is in many ways not like the rest of the world in thinking, policy, opinion or belief. Remember, China has vowed to 'work with' not 'work for'.