Benjamin Franklin is an American legend. He single handily invented the idea of the "self-made man." Despite being born into a poor family and only receiving two years of formal schooling, Franklin became a successful printer, scientist, musician, and author. Oh, and in his spare time he helped found a country, and then serve as its diplomat.
The key to Franklin's success was his drive to constantly improve himself and accomplish his ambitions. In 1726, at the age of 20, Ben Franklin set his loftiest goal: the attainment of moral perfection.
A feat while unrealistic is an example of aspiring to be more than we are. The betterment of ourselves should be the pursuit of us all. While unable to achieve perfection (obviously) seek a little virtue and you will surely earn value.
Eat not to dullness; drink not to elevation.
Franklin began his list of virtues with temperance because it was the virtue that would develop the self-discipline necessary to adhere to the other 12 virtues. Temperance calls for a man to avoid overindulgence in food or drink. By conquering your primal urges for food and drink, you'll have the confidence to start making improvements in other areas of your life.
Speak not but what may benefit others or yourself; Avoid trifling Conversation.
We live in an age of constant noise and chatter. Etiquette and polite manners have sadly not kept pace with developments in technology and our quickly changing culture. In the virtue of silence we took a look at how a man can practice this virtue in regards to cell phone use, customer service, and the internet. A man must learn when and when not to open his mouth.
Let all your things have their places; let each part of your business have its time.
If a man wishes to thrive in this world, he must develop order. But the laws of physics tell us that the universe and everything in it tends towards chaos and disorganization. A man must fight against these natural laws and the path of least resistance. Yet taking on complex organization systems will only cause more imbalance in your life. Instead, make small changes by rectifying each slip into disorganization the moment it happens. Do it now.
Resolve to perform what you ought; perform without fail what you resolve.
Resolution is the firm determination to accomplish what you set out to do. In this post, we looked at the story of Alexander the Great conquering the island of Tyre as an example of manly resolution. From Alexander's conquest at Tyre, we extracted four ways to help improve your resolve in life.
Make no expense but to do good to others or yourself; i.e., waste nothing.
American's savings rate is negative. That's right, Americans are spending more than they're saving. With the sluggish economy and soaring gas prices, practicing frugality is quickly coming back into style. While there are countless blogs that go into detail about how to live frugally, it all comes down to one principle: spend less than you earn.
Lose no time. Be always employed in something useful. Cut off all unnecessary actions.
Hard work has been the hallmark of every manly man. However, industriousness has gone out of style. People today are looking for get rich quick schemes that will afford them a huge payout with minimum effort. In reality, honest work is a beneficial and refining endeavor that should be embraced, not disdained. In this post we take on the cult of "The Four Hour Work Week," illuminate the value of work, and explain how you can be more industrious in your life.
Use no hurtful deceit; think innocently and justly, and, if you speak, speak accordingly.
If you frequent blogs or internet message boards, you've probably noticed the prevalence of gossip, sarcasm, and lying. Unfortunately, we're starting to see the demeanor that pervades the internet rub off on people in the real world. In this post we discuss how gossip, sarcasm, and lying can harm you and others and how you can work on avoiding these vices.
Wrong none by doing injuries, or omitting the benefits that are your duty.
When I look back at the men I admire most, they all had one thing in common: each of them stood up for the little guy. In a society plagued with apathy, what this world needs now more than ever are men who will stand up for justice. Find out how you can develop the virtue of justice in your life as well as areas that you can implement the virtue.
Avoid extremes; forbear resenting injuries so much as you think they deserve.
Are you looking for more fulfillment and satisfaction in your life? Society will tell you that "more" is the answer, that more money, more stuff, more women, and more pleasure are the keys to gaining satisfaction in life. In reality the secret to a fulfilling life is moderation. In this post, we offer five tips on how you can practice moderation in your life and in turn increase your happiness and pleasure.
Tolerate no uncleanliness in body, cloaths, or habitation.
While many would say cleanliness is more a sign of femininity than manliness, the reality is that developing cleanliness develops a man's attention to detail, discipline, and order. Of all the virtues, the meaning of cleanliness has changed the most over time. In this post, we discuss that history and then offer suggestions on meeting today's standard of cleanliness in your home, dress, and personal grooming.
Be not disturbed at trifles, or at accidents common or unavoidable.
The irritations of modern life have left many men hot under the collar. Controlling one's anger is the mark of a cool and composed gentleman. There are many social and health benefits to controlling your anger. In our discussion on tranquility, we provide 5 suggestions on how men can control their anger and start living more peaceful and tranquil lives.
Rarely use venery but for health or offspring, never to dullness, weakness, or the injury of your own or another's peace or reputation.
Of all the virtues, chastity is probably the least popular these days. We live in a society in which that glamorizes and exploits sex. Sex is everywhere, on the internet, on T.V. and in our magazines. But the ubiquity of sex has only cheapened a once sacred act and turned it into just another consumer good to be selfishly consumed. In this post, we take a look at the harmful effects of today's "hook-up" culture.
Imitate Jesus and Socrates.
The typical image of a manly man is one who is supremely confident, bordering or arrogance. Humility doesn't seem to fit in that manly image. However, some of the greatest men in history have been the most humble. Humility isn't weak, submissive, or self-abasing. Humility means having the quiet confidence to allow your actions to speak for themselves. After discussing a lesson on how not to be humble from Greek legend Achilles, we discuss five things you can do to be a little more humble.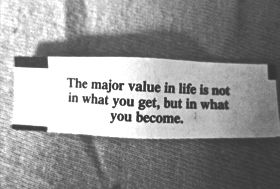 "It's not hard to make a decision once you know what your values are"
~ Roy Disney
Some nice quotes there accompanied by some classical music.
Bob Marley, two days after being shot, showed up and said 
"The people that are making this world worse don't take a day off, how can I?"
There was, are, and always will be those who try to force you to surrender your values or twist you with their own. Courage in these dark times,  for from that abyss is there no escape once entered.
Most well know from Pulp Fiction but actually from Ezekiel 25:17 
The path of the righteous man is beset on all sides by the inequities of the selfish and the tyranny of evil men. Blessed is he, who in the name of charity and good will, shepherds the weak through the valley of darkness, for he is truly his brother's keeper and the finder of lost children. And I will strike down upon thee with great vengeance and furious anger those who would attempt to poison and destroy my brothers. And you will know my name is the Lord when I lay my vengeance upon thee.